How can you optimize your processes while you're still performing them?
In a word, you can't. Not quickly. Not efficiently. You're so busy running the business, you simply can't devote the effort to improving the business.
Let us uncover the as-is, and map out the to-be.
Our crack team of analysts will work with you to quickly define existing workflows and their objectives. Then we'll analyze them, optimize them, and give you a best-practice process map that's easy to implement and profit from.
How does it work?
1

We work with you to define the scope. This means determining the exact processes to be analyzed and improved.

2

We document existing processes. Our team will work with your employees to scrutinize existing workflows at the step-by-step, minute-by-minute activity level.

3

We build you a better world. First, we analyze the newly-mapped processes to pinpoint issues, inefficiencies, and bottlenecks. Then we build you a map of future-state processes that hew to industry best practice.
Check out sample OpsDog deliverables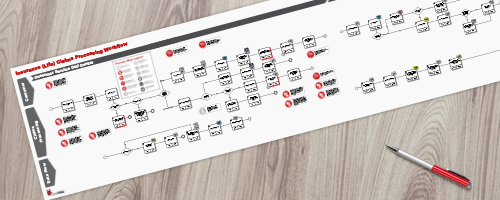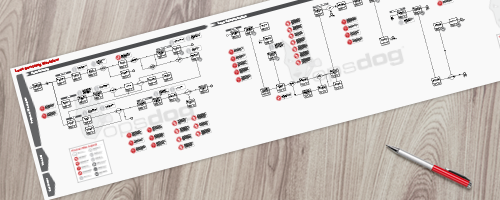 Ready to lean out all those processes? One of our friendly professionals would be happy to help you.
Some of the world's smartest companies use OpsDog:
Frequently Asked Questions
Q: How long does it take to map my processes and deliver improved ones?
A: Anywhere from one to six weeks. The precise answer depends on the number and complexity of the processes you'd like to improve.
Q: How do you know which processes are best practice for me?
A: From 25 years of doing this for the Fortune 500. We've worked with hundreds of leading enterprises to document, analyze, and map out their workflows. We have this best-practice data—anonymized, of course—in a proprietary database that we continue to grow and update every day.
Q: What do your Process Optimization services cost?
A: They typically start around $5,000. As with turnaround time, the price depends upon the number and complexity of processes to be documented, analyzed, and optimized to best-practice standards.
Q: Big-box consultancies charge a fortune for this. Why are you so cheap?
A: Because we work remotely, and we already own the data. We're not running up charges for travel, hotels, and meals. We watch our dollars, just like you. Plus, larger consultancies aren't structured to offer Process Optimization services on an à la carte basis. We are. So we can make this very affordable. Indeed, we're proud to count many of those same consultancies as OpsDog clients!
Q: Okay, you've piqued my curiosity. How do I get started?
A: It's easy. Just contact us. One of our friendly OpsDog team members will reach out to you and answer any questions you may have.
Let's Get Started.
Raise your game to world-class best practice. Lean out those workflows to maximize throughput and knowledge-worker productivity. Simply fill out this form, and one of OpsDog's friendly professionals will reach out to answer whatever questions you have about our powerful Process Optimization services, and how they will work for you.
Or feel free to call us right now at 844-650-2888 or email us at info@opsdog.com.
Call: 844-650-2888
-
Email: info@opsdog.com