You know there's a better way.
You just don't know the specifics of how industry leaders are, well, leading. How do their best practices translate to your organization, your department, and your workers' daily tasks?
We can help you find it.
Using our proprietary best-practice database—packed with anonymized data from consulting engagements with Fortune 500 leaders—we can develop a detailed roadmap for you. It's supplemented with original research. And it includes user-friendly guides that your employees can put to work ASAP.
How does it work?
1

We help you define the scope and objectives, including the specific areas you want to elevate to best-practice performance.

2

We do the hard work. This includes scouring our database, conducting original research, and reviewing external sources to gather the best-practice protocols you need.

3

We make it easy for you to implement. We develop detailed guides. Job aids. All the methods and practices that you and your people need to lift their game. Easily.
Check out sample OpsDog deliverables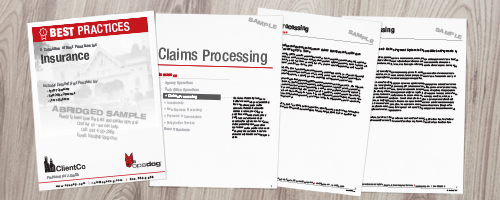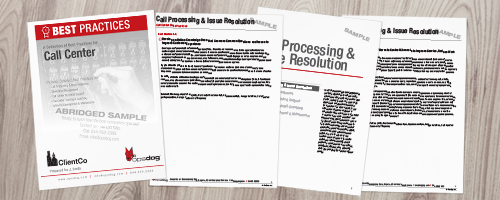 Some of the world's smartest companies use OpsDog:
Ready to learn more? One of our friendly professionals would be happy to help you.
Frequently Asked Questions
Q: How long does it take to uncover best practices for me?
A: Anywhere from one to six weeks. The precise answer depends on the scope of our tasking. A single department, for example, takes less time than an enterprise-wide project.
Q: How do you folks know which best practices matter for my business?
A: Through 20-plus years of research and hands-on consulting. We've been analyzing operations of hundreds of industry leaders—including scores in the Fortune 500—since 1993. We have detailed, documented, and anonymized data, at the activity level, for proven best practice. We combine that with original research to deliver the tools you need to improve today.
Q: What do your Benchmarking services cost?
A: They typically start around $3,500. As with turnaround time, the price depends upon the scope. In many cases, we'll have so much good stuff in our database already, that we can save you both time and money.
Q: Big-box consultancies charge a fortune for this. Why are you so cheap?
A: Because we already own the data. Plus, larger consultancies aren't structured to offer Best Practice research on an à la carte basis. We are. So we can make this very affordable. Indeed, we're proud to count many of those same consultancies as OpsDog clients!
Q: Okay, you've piqued my curiosity. How do I get started?
A: It's easy. Just contact us. One of our friendly OpsDog team members will reach out to you and answer any questions you may have.
Let's Get Started.
Don't let best practices elude your organization for another minute. Simply fill out this form, and one of OpsDog's friendly professionals will reach out to answer whatever questions you have.
Or feel free to call us right now at 844-650-2888 or email us at info@opsdog.com.
Call: 844-650-2888
-
Email: info@opsdog.com